T-REX 800E Aerial Photography Helicopter
T-REX 800E Aerial Photography Helicopter
Following the motto of never ending innovation, Align introduced yet another industry shocker! Based on years of professional helicopter design and production expertise, the brand new T-Rex 800E is tailor made for the aerial photography enthusiasts, yet at the same time posses the core performance capable of sports and extreme 3D maneuvers.
With 800mm main rotors, DFC rotor head system, and extreme low CG to effectively reduce wind resistance during flight, T-Rex 800E provides direct and precise flight response and control feel. The superior stability meets the most demanding aerial photography and payload lifting requirements. Composite material integrated carbon frame plates exhibits the advantages of both carbon fiber and plastic material, combined with design based on art and function, resulting in carbon material that is "hard and rigid," instead of the traditional "hard and brittle" property. Loaded with numerous performance upgrade parts, eliminating the cost of upgrades, and achieving optimal flight performance of the helicopter.
With superior flight stability and high payload capacity, when equipped with Align's new APS GYRO augmentation, T-Rex 800E allows you to enter the aerial photography world quickly, and begin exploring the beautiful new world.
---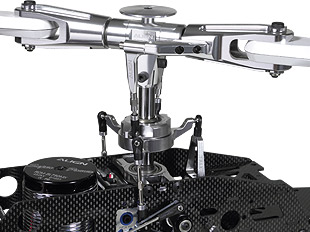 Newly designed DFC flybarless rotor head system utilizes extreme low CG design, effectively reduces resistance during flight, increased flight responsiveness and precision.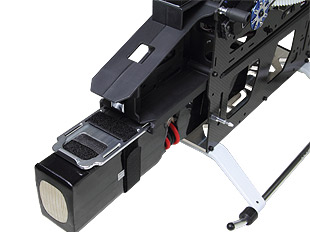 Dual section battery mount.
Top mounted motor base, allowing blade drafts to cool the motor effectively. New style linkage rod design, complete assembly increases linkage rod rigidity.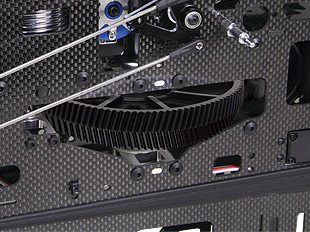 Utilizes high spec M1 112T CNC helical main gear and M1 tail drive helical gear. Designed for 800 class helicopter, utilize 110T main gear and 13T pinion for optimal ratio.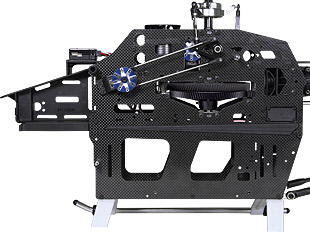 Innovative sliding battery tray rails imbedded into 3K side frame.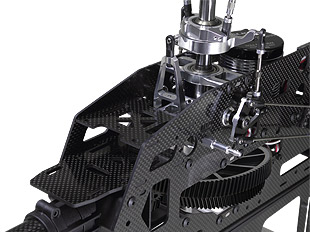 Add APS mount for easy ESC and APS GYRO installations.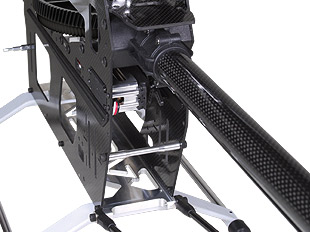 A7075-T6 Aluminum alloy material and CNC processed Metal Anti Rotation Bracket .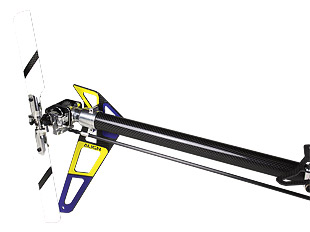 High quality pre-painted vertical carbon tail fin & new 115mm 3K carbon fiber tail blades with thickened Φ24mm tail boom.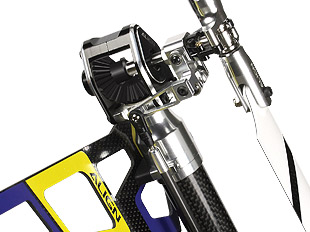 Utilizes dual point attachment design for zero play and higher precision control feel.
---
Specification
Length: 1490mm
Height: 400mm
Main Blade Length: 800mm
Main Rotor Diameter: 1780mm
Tail Rotor Diameter: 301mm
Motor Drive Gear:13T
Main Drive Gear:110T
Autorotation Tail Drive Gear: 104T
Tail Drive Gear: 22T
Drive Gear Ratio: 1:8.46:4.73
Weight(With Motor): 3516g
Flying Weight: 5400g
Accessories
T-REX 800E DFC Kits Set x 1 set
3GX Flybarless system x 1
800 Carbon Fiber Blades x 1 set
BL700H High Voltage Brushless Servo x 3
BL750H High Voltage Brushless Servo x 1
3K Carbon Fiber Tail Boom x 1
750MX Brushless Motor(450KV) x 1
Castle ICE2 HV 120 Brushless ESC x 1
115mm 3K Carbon Fiber Tail Blades x 1 set
Radio transmitter and electronic equipment required for assembly
Transmitter(7-channel or more, helicopter system)
Receiver(7-channel or more)
6S Li-Po 4500 ~ 5200mAh x 2
2S Li-Po 1900 ~ 2300mAh x 1
Dial Pitch Gauge
---