T-REX 700E F3C Helicopter
T-REX 700E F3C Helicopter
F3C is currently the only FAI recognized RC helicopter competition class. The competition event is focused on the precision and completeness of flight maneuvers, critical not only to the contestant's expertise, but also the design of helicopter itself. Based on the need of F3C market, Align designed the value priced T-Rex 700E F3C using its technology and experiences gained over the years.
T-Rex 700E V3 continued the legacy of the superior 700E by adding numerous new features: New design 700 rotor head with more adjustability, enabling more dynamic ratios for enthusiasts to choose from. New latch equipped battery mounting assembly with CNC aluminum alloy mounting plates for ease of battery replacement. High spec MOD1 112T helical main gear paired with 12T motor pinion, with increase gear mesh surface to withstand the monstrous power load.
High quality tail gearbox with thicker side plates for increased rigidity; Teflon material are applied at tail rotor control rod and bellcrank ball link areas for increased longevity and minimized interference; Carbon tail pushrods with new pushrod guides for more precise rudder control.
---
---
Focus Shots
---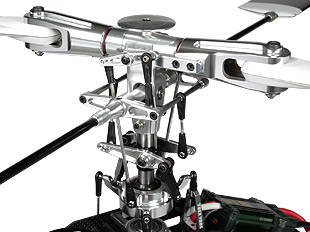 Newly designed main rotor head assembly.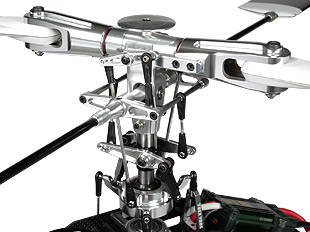 Innovative sliding battery tray with patented springloaded lacthing mechanism.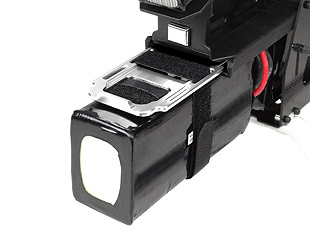 6061-T6 Aluminum alloy material and CNC processed metal battery mount.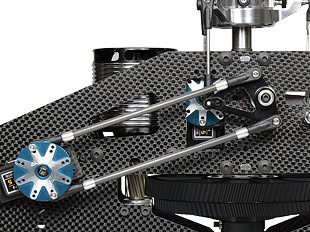 Utilizes highest spec CNC Modue-1 helical main gear.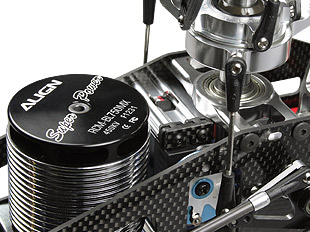 Precision CNC machined aluminum pieces including elevator servo mount.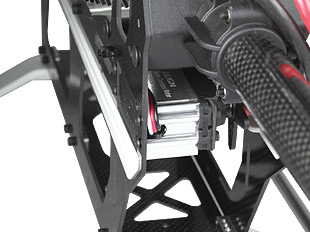 Precision CNC machined aluminum pieces including rudderr servo mount.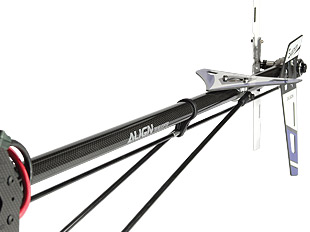 New carbon tail control pushrod assembly.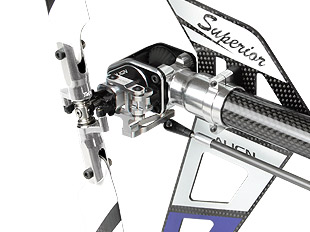 High quality new tail gearbox design, combined with new dual point mounted tail pitch control assembly to minimize slops and increase rudder control precision.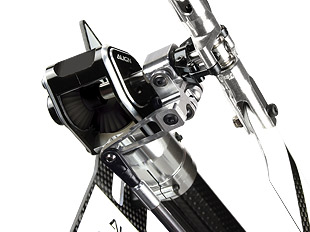 Utilizes newly developed, highest spec and superior anti-wear material to increase the overall strength and durability for torque tube drive gear. Effectively minimize gear striping and crash damage.
---
Specification
Length: 1343mm
Height: 424mm
Width: 210mm
Main Blade Length: 700mm
Main Rotor Diameter: 1582mm
Tail Rotor Diameter: 281mm
Motor Drive Gear:12T
Main Drive Gear:112T
Autorotation Tail Drive Gear: 104T
Tail Drive Gear: 24T
Drive Gear Ratio: 1:9.33:4.33
Weight(With Motor): 3230g
Flying Weight: Approx. 5200g
Accessories
T-REX 700E F3C Kits Set x 1
Aluminum Tail Boom x 1
3K Carbon Fiber Tail Boom x 1
F3C 700mm Carbon fiber blades x 1
DS615 Digital servo x 3 set
DS655 Digital servo x 1
GP900 Head Lock Gyro x 1
750MX Brushless Motor(450KV) x 1
Castle ICE2 HV 120 Brushless ESC x 1
6A External BEC w/ 5.1V Two-way Step-down voltage regulator x 1
105mm 3K Carbon Fiber Tail Blades x 1 Set
Radio transmitter and electronic equipment required for assembly
Transmitter(7-channel or more, helicopter system)
Receiver(7-channel or more)
6S Li-Po 4500 ~ 5200mAh x 2
Dial Pitch Gauge
---