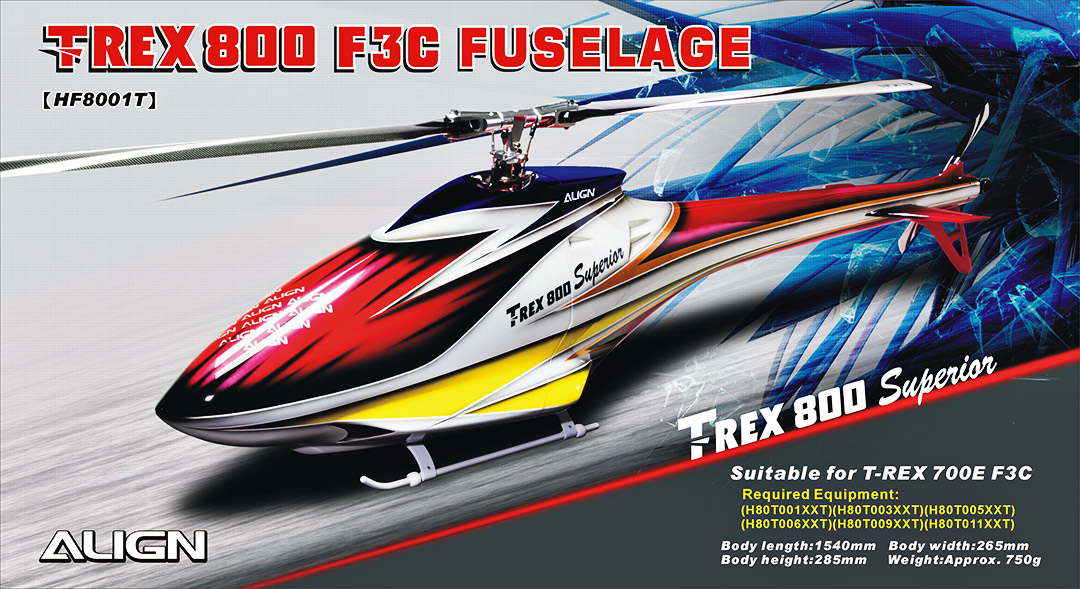 The 800 F3C fuselage is designed specifically for T-Rex 700E F3C upgrade to 800 series in competitions. Contrary to other older fuselage designs where assembly and fitting can be difficult, this fuselage can be assembled easily and quickly with the included hardware.
The aerodynamic lines of the shark shaped minimizes wind resistance, while stabilizing the helicopter during F3C flight routines and advancing the great performance of T-Rex 700E F3C even higher, achieving total dominance in class P and F of F3C. Custom designed floating fuselage mounting system effectively reduce helicopter vibration and minimize resonance effect; The light weight fiberglass and carbon fiber construction weights only 520g, maintaining the optimal power to weight ratio of the helicopter; Colorful paint scheme ideal for visibility while in the air; Unique quick release design of the fuselage for battery access with removal of just 4 screws; Finally, a low CG landing gear system not only reduce wind resistance during flight, but also contributes to the extraordinary style. This classical fuselage is not to be missed for those who owns a T-Rex 700E.
---
Length,Width,Height Lateral view

---
Focus Shots
Designed specifically for F3C competitions.
Unique shark shape which minimizes wind resistance for F3C flight and stabilize the helicopter, allows contestants to excel in static maneuvers as well as superior tracking performance, achieving total dominance of P and F classes in F3C competitions.
Floating fuselage mounting design to effectively minimize vibration and resonance, achieving even more stable flight.
Fiberglass and carbon fiber construction to bring the weight down to mere 520g. Equipped with complete hardware for ease of assembly.
Dedicated low CG landing gear painted in white color, minimizing wind resistance during flight and stabilizing helicopter landing.
Quick fuselage removal design, battery access is achieve with removal of only 4 screws.
Colorful paint scheme with 3D elements for optimal visibility during flight.
---
---
---
---